Welcome to the Official Website of the Gloucestershire Branch of the Official Arsenal Supporter's Club. We are celebrating the 17th anniversary of our formation this year. So many amazing occasions, happy memories and wonderful friendships forged. And regardless of background, colour, creed or gender - WE ARE A FAMILY!

This website was originally built for members to interact with the club and to enable new people to join the club. This site was regularly maintained from 2004 - 2014. Since then, we have been superceded by social media and have found this to be the best way forward in keeping things up to date; as every member can contribute as we go along. Consequently, we now have an Arsenal Gloucester Supporter's Club Group on Facebook, where members can interact, put up their photos and get information on forthcoming matches and events. This is now the hub of our web presence. SEE LINK BELOW. YOU CAN ALSO FIND INFO ABOUT JOINING OUR CLUB.
This website - Arsenal Gloucester.Com (combined with our Facebook group) is the written and pictorial history of our supporter's club going back to it's inception in 2004 through to the present day. SEE LINKS AT THE TOP OF THE PAGE.

Please remember - we need your support and loyalty. It is not easy running a supporter's club - it is a work of love and dedication by unpaid volunteers. It has been established so that we can all get a chance to obtain tickets for games and join together to support our beloved Arsenal. Moreover, it is a chance to make great new friends and be part of something truly special. We have members all over Gloucestershire and way beyond. We even have members in The Netherlands. So along with this website; like Arsenal FC itself, we are truly international!
Arsenal Forever!

Jayl Gunner

Club Founder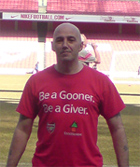 © 2004 - 2021 - AGSC / Harmony Design