The Helps Family (Steve, daughter Fiona and his dad Michael)
Review of their 2004 - 2005 season as Gunners
I am Steve age 40 and from Wickwar, South Gloucs, now working for myself, therefore I am catching up on lost time by watching the Arsenal "live" as much as possible after supporting them for 30 years. My daughter Fiona is 13, loves Henry and became a Junior Gunner for the start of this season. My dad, Michael is not as young as us but supports the Arsenal and comes with me to most games as well as watching them on Sky at my house. Dad and I are Red Members, I am on the season ticket waiting list and the three of us are Travel Club members. On Home game days we have always parked in the same school playground on Blackswarth Road and always have a Burger (Fiona and I) and Hot Dog (dad) from the Burger stand, either outside the East Stand between the ticket office and the Clock End entrance or from the one on the corner of Gillespie Road and Avenell Road, next to the Supporters Club (a very friendly bunch).
The season started as most of them do for my family, a two week holiday in the sun at the beginning of August (the start of the season-what a sacrifice). This time it was the Algarve and a hotel with sky TV and a bar was required for the Charity Shield against Man U and the Everton game. Great results in both games 3-1 against Man U and 4-1 against Everton meant the unbeaten run was still going strong. The next game against Middlesborough was an eye opener to say the least, we were dead and buried and somehow managed to win 5-3, a fight back like that had not been seen at Highbury for quite sometime. Convincing wins against Blackburn at Home 3-0, Norwich Away 4-1 and Fulham Away 3-0 followed, the unbeaten run still going very well and the team playing fantastic football.
14.09.04 - The first taste of Highbury this season tonight, Dad and I have tickets in the North Bank, behind the goal for the PSV Champions League game. Usual routine of leaving about 1.00pm, steady drive up, park in Blackswarth Road, wait for the school to open at 6.00pm, park the car for a fiver, then walk to the ground. Great to be here again, the game is a bit scrappy, nothing special, but a 1-0 win is a good result, one nil to the Arsenal (sounds familiar).
18.09.04 - Back to the premiership again, dad and I set of early for the Bolton game; this is at home but is on Premiership Plus, therefore a midday kick off. I had to work hard to find alternative car parking for this one, as our regular park could not open, after several phone calls we were sorted. After another scrappy, inconsistent game we end up with a worrying 2-2 draw, nevertheless the unbeaten run goes on.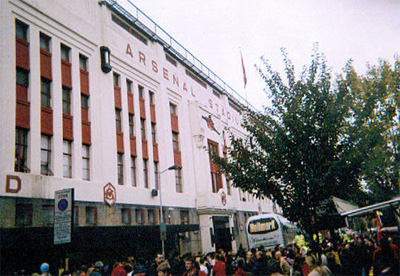 Next is another hard fought 1-0 win away to Man City and an even harder fought 1-1 draw in the Champions League away to Rosenborg.
02.10.04 - Today was the visit of Charlton and I was lucky enough to get a ticket from someone who could not go. So I went up on my own, sat in my seat in the East Lower stand for the first time (strange experience) and watched the mighty Arsenal demolish Charlton 4-0. Highlight of the game - the Henry back heal goal. Unbeaten and back on track playing stylish footy.

16.10.04 - After a two week gap, which seems like forever, Aston Villa arrive at Highbury. I take Fiona along to this game and we are sat up in the Gods of the East Stand Upper - Row Z. After a nervous start, we finally kick into gear and win 3-1 and the unbeaten run goes on.
The Champions League comes next and our usual away team turns up in Panathinaikos, it ends up in a 2-2 draw, why can we never win away from home abroad (with the odd exception of course, Inter Milan etc).
THEN COMES THE BIG ONE - the opening and first meeting of the Official Arsenal Gloucester Supporters Club, at the Nelson Inn, Gloucester. Dad and myself think that this would be good to join and go along to meet fellow Gooners. Sorry did I forget to mention that it is also the day of the Arsenal playing Man U at Old Trafford. Game number 50 in the unbeaten run and it is on the big screen. Dad and I always watch Arsenal Sky games at my house on the TV, except when I am out of the country, so this is a first for us (superstitious or what!). We all know what happened next (other than the regular loss of picture on the big screen).
Moving on swiftly - the next game was against Man City in the "Mickey Mouse Cup" (Carling Cup), another good opportunity for the youngsters and the "not so fit" experienced players. The Arsenal come away from the City Of Manchester Stadium with a 2-1 win.
30.10.04 - Back to the premiership, the unbeaten run gone on 49 games, a new and fantastic record for the club. Southampton are the visitors, never an easy game and hard work is made of this one. The players were obviously still shell shocked from the Old Trafford experience and we were still struggling with corners. Robin Van Persie saves the day with a cracking shot well into injury time at the end of the game. The game ends in a 2-2 draw.
02.11.04 - The return of Panathinaikos to Highbury, this means a late night back for Dad and myself, but I really enjoy night matches at Highbury, under floodlights, its great. West Stand Upper is where we are, great seats, not a great game, should have been and it ends up 1-1. We threw this one away.
Crystal Palace away on Saturday 6th, this is a 5.15pm kick off on Sky. Fiona and I have booked ourselves to go to Highbury and have our pictures taken with the Premiership and Unbeaten season trophy, as well as the Charity Shield. We set off late morning and go into the North Bank for the pictures. Dad comes as well to sit in the car, just in case we cannot park anywhere, traffic wardens are a nightmare up there (it turns out that he could have had his picture taken as well). Nevertheless we are all allowed to go around the Arsenal museum free of charge afterwards which is great. We then manage to get back to home in time to watch most of the game on TV. A very "up for it" Palace manage to get a 1-1 draw from us. The Arsenal are still finding life hard sine Old Trafford.
Carling Cup time again on Tuesday 9th November and the Arsenal pull off an impressive 3-1 win against a good Everton side.
Saturday 13th brings along one of those rare, unusual games, in the form of the North London derby at the Lane. Live on Sky, bottle of wine by my side (thankfully because I needed it) and Dad. After 90 minutes of quality football, poor marking, poor defending and everything else that could happen, the Arsenal win 5-4, brilliant, they needed that one.
The following weekend brings another game that we could of and should of won, West Brom at Highbury. Mr Earnshaw had other ideas and scored to earn the visitors a 1-1 draw.
Wednesday 24th November - Here we go again, Champions League Away to PSV, Dad and I decide to watch this one at the Nelson as some of the Supporters Club, including top man Jayl, have gone over to watch the game. The Nelson banner is spotted in the ground (the highlight of the game) and Arsenal again fail to do it away on foreign soil but do earn a 1-1 draw to keep our hopes alive.
Sunday 28th is another televised game against Liverpool at Anfield, so again Dad and I decide to watch on the big screen at the Nelson. Never again though, just as you think the team is getting over Old Trafford and injury problems etc, the Liverpudlians nick a goal right at the death to win 2-1.
01.12.04 - Dad and I are off to Old Trafford to watch the young guns play Man U in the Carling Cup, Fiona is not happy because she is not allowed to come because of school the next day. We get there very early, have our usual pre match meal, hot dog and burger (not as good as at Highbury) and get let in at about 6.00pm. After going one nil down within the first 20 seconds and never looking like scoring, we spend most of the game trying to out-sing 62,000 United fans. After the game and finally getting out of the car park, which was a United fans car park and mine was the only car with Arsenal stickers in, we got home in the early hours of the morning. Dad was happy though as it was his first time at OT and he was very impressed.
Back to the Premiership on Saturday 4th, this time against Birmingham, a team that can be full of surprises. Nothing to worry about though, the Gunners win 3-0.
07.12.04 - Champions League night at Highbury, we have to win, it is against Rosenborg. All three of us are there, sat in the West Lower, it is a tense atmosphere at first, but by the end what a great result, Arsenal 5 Rosenborg 1, job done. A great night out at Highbury was had by all, even the Norwegian that was sat by us.
Sunday 12th brings the favourites for the championship to Highbury, Chelski. Live on Sky and my front room is buzzing. We really need to prove something in this game and we really could have won it. Henry is on fire and the rest are following suit but our defending in the air again lets us down. A 2-2 draw is better than losing but I still feel that it was there for the taking.
14.12.04 - My daughter Fiona, who has only been in the Junior Gunners for 4 months entered a competition in one of the match day programmes. It was only for JG`s and the prize was to go to the JG`s Christmas Party at Highbury today. Well the lucky so and so won. So I have had to drive up to North London with her last night, stay in a shoe box of a hotel room on Finchley Road and then drop her off at Highbury, North Bank entrance in the morning. Then I have to collect her at 4pm, how jealous am I, and I forgot to mention that she will meet the entire Arsenal team, except Freddie as he is still having headaches. So I have a day to wander the streets, looking at the Emirates Stadium, watching the players drive in and out of Highbury, me waving like a possessed fan. The only up-side for me is that I manage to see Mr Wenger entering the main entrance, so I run from the Arsenal shop as fast as I can, taking my permanent marker pen and yellow shirt from my pocket, shouting "Mr Wenger, Mr Wenger could I please have your autograph", which he very kindly gives to me.
So what if when I collect Fiona she has her yellow shirt with 18 autographs on it!
Fiona really enjoyed her time at the party, they played games, had two hours with the players, met Mr David Dein and got fed and watered.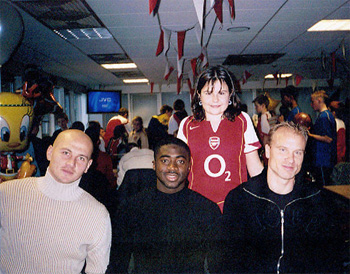 The following Sunday is another Sky game, we are away to Portsmouth. There is a problem with this, I have the in-laws coming around and I have had to concede to not watching the game. While the game is on, the father-in-law is asleep and the mother in-law is talking to my wife (Celia), so I could have watched it. Dad misses out too, but I watch the game later on Sky without knowing the result and thankfully Campbell saves the day with a rocket shot from the Isle of Wight (well it seemed a long way out at the time). The Arsenal win 1-0, "one nil to the Arsenal", "One nil to the Arsenal."
26.12.04 - Our very first Boxing Day game at Highbury, front row, West Lower Stand, where the extra away supporters normally sit and it is very cold. John Motson walked past me and I missed the chance of an autograph. Anyway it is a happy festive experience, with the Arsenal winning 2-0 (I think Fulham had too much turkey).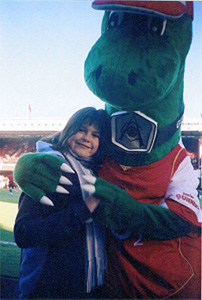 The following Wednesday brings an away game at St.James`, the home of Newcastle United, televised on Sky and watched by myself and dad. Newcastle a team full of promise but we win 1-0. This is followed by an away match to Charlton on New Years day which ends in a 3-1 win for the Gunners, so all in all a great festive period of football.
04.01.05 - Man City at home, we are all in the East Stand Lower, usual procedure of the journey, the pre match meal and a pillar in some of our view. Wright-Phillips scores a cracking goal but luckily we manage a 1-1 draw. An early morning journey follows and another early start for Fiona as school has started again.
09.01.05 - The FA Cup comes to Highbury today and all three of us are there, sat in the West Stand Upper about on the halfway line. The Stoke fans are really loud and have the entire Clock End to themselves, all credit to them, we even help a few out pre match telling them where to park. It is a very tough game for us but after a few frights we manage to win 2-1.
Saturday the 15th we are away to Bolton, this is on Premiership Plus, I pay my money and Dad and I watch us lose 1-0, enough said. Sunday 23rd brings Newcastle to Highbury and is shown live on Sky, with Dad and I glued to the TV, we are more than happy to see the Arsenal win 1-0, "one nil to the Arsenal". Wolves are next up in the cup and I have to settle with 5 live on the radio for this one, but we do the job and win 2-0.
Tuesday February 1st 2005, myself and Dad decide to go the Wickwar Social Club to watch the visit of Man U to Highbury. Well it was all going so well, goals, sending offs but what on earth happened - somehow we lose 4-2. I have never really got over what happened in that game, we had it and we lost it.
Saturday 5th Aston Villa at Villa Park made up for some of what had happened in the last game. Live on Premiership Plus, Dad, me and positive thoughts. The Arsenal ran riot, they were possessed, they should have won by hundreds but ended up winning 3-1, it will do. The next game and the same thing happened again, Crystal Palace at Highbury, Monday 14th (Valentines Day). I invited Dad around and two friends of mine, a father and son who are die hard Palace fans. We stuffed them 5-1, I did not know what to say as they left.
Saturday 19th and the FA Cup came to Highbury with Sheffield Utd, I didn't go, as the last time we played them in the Semi Final at OT, a United fan threatened to kick my head in. We watched the game on the BBC, we should have won but ended up drawing 1-1, with the gloved hand of Reyes causing all sorts of trouble.
22.02.05 - A momentous day in my life, my first trip abroad with the Arsenal, Bayern Munich in the Champions League in Munich with snow. I chose to go on the official Travel Club flight from Gatwick, so stayed there the night before and after. After all sorts of delays due to snow we got there. I met up with a Gunner called Graham from Southampton and we stayed together for the day in Munich. We ate and drank well and mingled with the Bayern fans and other Germans, it was a great day out - except for the performance and result. We lost 3-1, with the highlight being the massive snow ball fight that the Germans were having with themselves inside the ground. Never mind I managed to make a new friend in Graham and shouted at Aly McCoist as he walked into the commentary booth.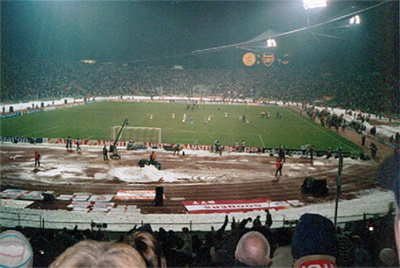 26.02.05 - Southampton at St.Marys. Fiona, Dad and myself all go to this one and we meet up with Graham and his family who I met on the Bayern journey. The Arsenal make a mess of this one, with Van Persie being sent off and the final score being 1-1.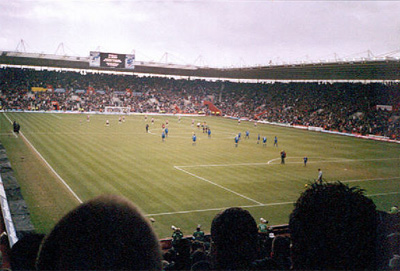 Sheffield Utd at Bramhall Lane in the FA Cup are next on Tuesday March 1st, this is on BBC so Dad and I watch on our own TV`s. A mixture of youth and talent due to injuries and suspensions manage to win on penalties. This is followed by a 3-0 home win against Portsmouth on Saturday 5th March.
The return of Bayern Munich is on Wednesday 9th March, we need to win 2-0, the team tries hard but only manages to win 1-0. The Champions League is over again for us with nothing to show for it. Dad and I watch this on Sky but you knew that the damage had been done in Munich.
12.03.05 - FA Cup quarter final time, against Bolton at the Reebok Stadium. The three of us all go up. We park in the official away supporters car park and go for a wander. Whilst in the car park I spot Diouf, so I try and get his autograph along with a young boy who was asking him as well, Diouf refuses. Once in the ground we sit right behind the goal, Freddie scores after 3 minutes, Diouf gets sent off (ha ha - he should have given me his autograph) and Freddie misses a sitter right in front of us near the end, just as I said to Fiona "watch, watch we are going to score". We win 1-0 and it is the semis for us.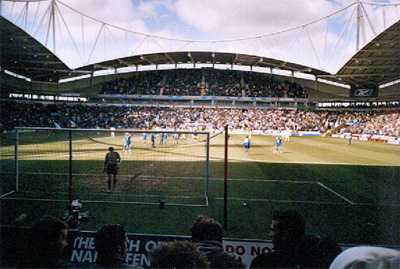 Next up for the Arsenal is an away game at Blackburn Rovers, this is on Premiership Plus, Dad comes around but I miss most of it because I take my son to Karate grading. We manage a 1-0 win again though, this is important as we need to finish above Man U, it looks like Chelski have the title in the bag now. April 2nd we thump Norwich 4-1 at Highbury and scrape a 1-0 win away to Middlesborough on Saturday 9th.
16.04.05 - FA Cup Semi Final day at the Millenium Stadium. I invited Graham and his son (from Southampton) to stay the night at my house to save travelling time. A great day out is had by all of us, the weather is good, the result is great, 3-0 to the Gunners and I met the supporters club lord and master plus his wife there. The Arsenal end was sold out unlike the Blackburn end, Van Persie played a blinder.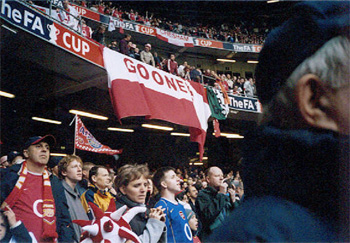 Chelski at the Bridge followed on Wednesday 20th, on Sky TV, at my house with Dad. It ended 0-0 but we could have scored, we played very well, we were well organised and we can end the season saying that we were never beaten by Chelski the Champions.
Another televised game on Monday 25th, this time it was Spurs at Highbury, after a few early scares we should have knocked them out of site but ended up winning by a single goal, 1-0. "One nil to the Arsenal, One nil to the Arsenal".
02.05.05 - West Brom at the Hawthorns, fighting for survival. Dad, Fiona and I all go and we meet Graham there. After a pre match meal in McDonalds we go in to the ground. Whilst waiting for kick off Mr David Dein walks past and I manage to get him to sign my programme. A little while later he walks by again, so this time I get a picture of him with Fiona and Dad gets his programme signed. The game is not the best, the baggies supporters are the loudest I have heard all season (shame the Highbury library can`t be like that) but the result is 2-0 to the Arsenal, second place in the league is getting to be almost ours.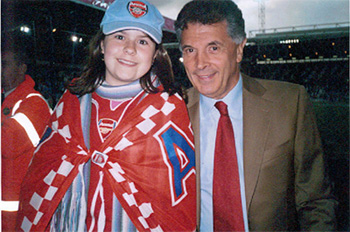 Sunday 8th brings Liverpool to Highbury, the game is live on Sky, me and Dad are glued to it. The first half is some of the best football we have played in ages, the second half is not, but we still end up winning 3-1 against the Champions of Europe to be.
Wednesday 11th on Premiership Plus is the last time Arsenal will wear the Red and White kit at Highbury. The visitors are the Premiership surprise package Everton. Dad and I at my house, with my wife and Fiona coming in every now and then and saying "how many now, have they scored again, have the other team not turned up". A phenomenal performance and it should have been more, but it ended up 7-0, yes seven to the Arsenal.
15.05.05 - Last Premiership game of the season, away to Birmingham City. We all go, we meet up with Graham again, I wear fancy dress, a prisoners outfit which in hindsight was not a good idea as everyone thought I was taking the mick out of Mr Pennant. The Arsenal supporters were up for this one, the team were not, we took the mick out of Heskey and he scored the winner. I think most Gooners and the team especially had their minds on the Cup Final next week, star players were rested and the score of 2-1 to Birmingham showed that.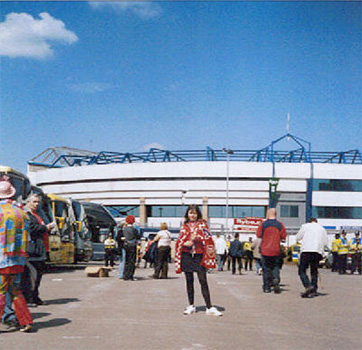 Saturday 21st May 2005 - The FA Cup Final against Man U. Well I have to confess I was really in the mood for this one, the TV was on from lunchtime, the Wife and Fiona had gone shopping and the bottled lager was being drank. Dad arrived just before kick off, by which time I was on the wine. The game seemed like a dream, were the Arsenal actually there, it seemed to be all Man U. Somehow through all of this I believed we could still win, I don't know how though, we had no strike force. Full time ended, extra time ended, penalties came, Scholes missed, Lehmann saved, Vieira scored, the Arsenal won 5-4 on penalties, absolutely brilliant. This is fantastic, I get Dad and Tom (my son) to get into Dads car and we go up to the Social Club for a celebration drink. After that I cook my family an evening meal in our wok because I feel so GOOD !.
When I look back at our season as supporters it has not been too bad really, we watched 17 live games, 10 at Highbury and 7 away. We saw the Arsenal score 32 goals and concede 16.
Fiona decided that the best Hot Chocolate served at an away ground was the one at St.Marys, Southampton (shame because they were relegated).
I decided they sold the worst un-cooked burgers in the premiership (good job they were relegated)
We managed to win the FA Cup and finish runners up in the league despite a lot of key players being injured at crucial times. I cannot wait for the new season to start, our last at Highbury and as we are not away in August, I look forward to going to the Charity Shield on August 7th against Chelski.
At the last game of the season against Birmingham in the Arsenal end there was a banner, it read :-
CHELSKI - YOU MAY HAVE BOUGHT THE TILTE, BUT YOU CANT BUY HISTORY
We have plenty of that and long may it continue, but it takes supporters through thick and thin to help create that history.
All of the dates that are highlighted are games that we attended, all of the comments are my opinion only and everyone is entitled to their own..

Steve Helps - 2005
Steve Helps is the Arsenal Gloucester Home Ticket Officer.
To contact Steve email stevehelps@arsenalgloucester.com
You can view more of the Helpsy 2004-05 photos on our GALLERY pages.
You can view more photos of Fiona with the players at the Junior Gunners Christmas Party 2004 on our FEATURES pages.