On the 26th May 2006 North Bank FC took part in a football competition at Highbury, which was actually the last footballing event ever at the great place. After the photo below, the team went up the tunnel to the dressing room, showered and changed and then left the stadium via the marble halls and then out through the front door and onto the team coach! So who were the last players to leave the famous old stadium? Was it Henry or Bergkamp? Lehmann or Gilberto? No ... it was Helpsey & Ely ... Newnham & Jayl!
WHAT AN HONOUR! As the last of the team left the building the doors were locked and an era ended.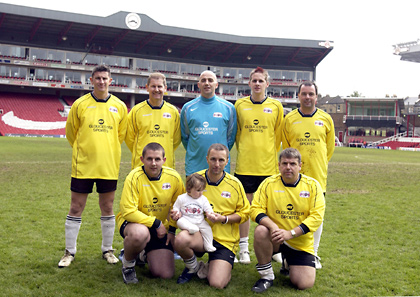 North Bank FC - Highbury - May 26th 2006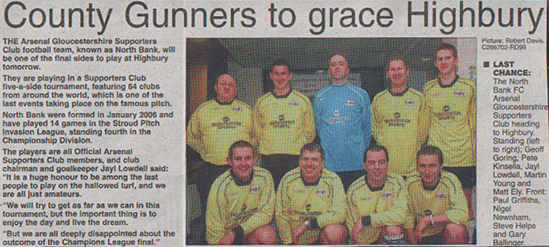 Article - Gloucester Citizen & Echo - May 25th 2006
Click Any Image to Enlarge

PRESS 'HOME' TO RETURN TO THIS PAGE

North Bank FC are sponsored by GLOUCESTER SPORTS, Worcester Street, GLOUCESTER.
Arsenal Gloucester would like to thank Chris, Cath & Gary + all at Gloucester Sports.
1

Leigh Millar

2

Steve Helps

3

Nathan Morris

4

Nigel Newnham

5

Gary Ballinger (V.Captain)

6

Jayl Gunner

7

Pete Kinsella (Captain)

8

Martin Young

9

Dan Morris

11

Matt Ely